Rev. George M. Reilly, September 8, 1933 – September 16, 2022
by Diane Hellriegel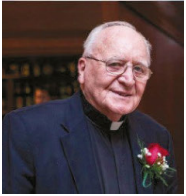 It is with deep sadness that we announce the passing of Rev. George M. Reilly, pastor of Saint Joseph Church from 1989-2010. Fr. George was born in the Bronx on September 8, 1933 (a day that also celebrates the birth of Our Blessed Mother). The son of John Reilly, a police officer, and his wife Elizabeth, a homemaker, he had two siblings: a sister Florence who became Sr. Mary John of St. Elizabeth for the Little Sisters of the Poor and a brother John who married and gave him one of his most cherished titles—"Uncle". At 13, Fr. Reilly's family moved to Northvale, NJ. While a parishioner at St. Anthony's Church, he met Msgr. James Johnson who greatly influenced his eventual decision to become a priest. He graduated from St. Cecilia High School in Englewood and from Seton Hall University in 1956. After attending Immaculate Conception Seminary, he was ordained on May 28, 1960.

Fr. Reilly's first assignment was to St. Catharine's Parish in Glen Rock where he served for almost 20 years. While there he was also Director of Religious Education and was involved with family life programs. In 1977, he was appointed Dean of the Northwest Bergen Deanery. In 1980, Fr. Reilly served almost ten years as a Spiritual Director in the Immaculate Conception Seminary helping to prepare others for the priesthood. On Dec. 2, 1989, the Archbishop recognized both his skill in parish leadership and his ability to inspire others, and appointed him Pastor of Saint Joseph Parish in Oradell/New Milford. While at Saint Joseph, Fr. Reilly discovered (in his own words) "people who had a sincere desire to be close to God." To help them reach that goal, he developed over forty ministries within the parish and encouraged tremendous lay involvement. In addition, he spearheaded significant restoration efforts over the years that kept our church a beautiful and welcoming place for all.

Arlene Kennedy, our Sacraments Coordinator, and Phyllis Vrola, our parish Business Manager, had the pleasure of working with Fr. Reilly for more than 20 years. As Arlene has said, "Fr. Reilly was so kind, approachable and pastoral." Phyllis repeated that he was incredibly kind "and also thoughtful. He had the unique ability to truly listen to people and to understand their needs." Phyllis remembered that whenever St. Joseph Parish was faced with a challenge, Fr. Reilly would always say, "Don't worry. God will always take care of St. Joseph." And indeed, He did. As Arlene put it, "Fr. Reilly's deep faith and trust in God made everything right."

Fr. Reilly worked tirelessly to bring people of all ages into the Faith. A favorite story he liked to tell at our First Communion Masses each spring was the one about his young nephew Hal who was thrilled to be able to finally sit next to Uncle George at the grown-up table for Christmas dinner. With his customary warmth and humor, Fr. Reilly wanted
everyone–our First Communicants as well as everyone present in the church–to know that we are all welcome to come to Our Lord's Table.

Upon retirement in 2010, Fr. Reilly went to stay with his dear friend, Fr. Peter Palmisano, pastor of Our Lady of Mount Virgin in Garfield (where he also celebrated his 60th anniversary of ordination in 2020). Fr. Peter had known Fr. Reilly as Spiritual Director in the seminary, as well as spending six years with him in his first assignment as parochial
vicar at Saint Joseph while Fr. Reilly was pastor. Fr. Peter shared in his homily at the funeral Mass that Fr. George was indeed "a spiritual father of all of us." He was a "man of prayer" continued Fr. Peter, often found with his Breviary in hand. "His door was always open to anyone in need." In the words of St. John Vianney, patron saint of parish priests, "The priest is not a priest for himself; he does not give himself absolution, he does not administer the Sacraments to himself. He is not for himself. He is for you."

The gratitude that we, the people of Saint Joseph, feel for the tremendous blessing God has given us through Fr. Reilly, is inestimable. His warmth, compassion and spirituality have advised and comforted countless parishioners who have turned to him over the years in times of trouble and sadness. As Fr. Peter put it, Fr. Reilly "did not live for himself." He never let anyone know of any problems or torments he was dealing with. When asked how he would like to be remembered at Saint Joseph, he replied with typical modesty, "that I wasn't an obstacle to the growth and development of the people in their journey to God." On the contrary, as Fr. Peter expressed it, "Fr. Reilly brought each and every one of us closer to God."

Whenever anyone would tell Fr. Reilly how good it was to see him, he used to delight in replying, "It's good to be seen!" There is no doubt that when the Lord greeted Fr. Reilly in heaven, God was able to say with great pleasure that "it is indeed very good to see YOU, Fr. Reilly!" We extend our deepest sympathy to the family and friends of Fr. Reilly. In lieu of flowers, the family has requested that donations be made in Fr. Reilly's honor to the Little Sisters of the Poor, 140 Shepherds Lane, Totowa, NJ 07512.