PROCESSION – JUNE 11

On Sunday, June 11 the Church celebrates Corpus Christi to honor our Lord Jesus Christ in the Eucharist.

St. Joseph parish will have a procession on the parish grounds on this day following the 12 noon Mass. Everyone is invited to participate in the procession which will include prayers, hymns, and devotion to
honor our Lord.
---
SEVERAL SOURCES – JUNE 4

Several Sources will be visiting our church
the weekend of June 3-4, 2023. Come and meet the new CEO, Joan M. Silo. Your financial gift will help save the life of a child and help continue their ministry!

Through God's grace, Several Sources saves babies' lives and shelters young mothers, while providing education and ongoing compassionate support services, including their Pregnancy Sonogram Center. They further educate young people to make healthy life choices, and they support inner city Special Families with care packages for Easter, Back-to-School, Thanksgiving and Christmas.

Visit www.severalsources.org or
call (201) 818-9033 for more information.

DONATE ONLINE: https://www.severalsources.org/get-involved/donate

Several Sources Shelters
PO Box 157, Ramsey, NJ 07446
---
CONTEMPLATIVE PRAYER – JUNE 3
Do you feel called to learn more and have an experience of a simple, silent, transformative method of prayer?

Join Maureen Hanley on Saturday, June 3rd from 9:45am to 11:15am in the Parish Retreat House. Coffee/tea will be served.

Contemplative prayer is the opening of
our mind and heart –our whole being—to God, the Ultimate Mystery beyond thoughts, words, and emotions. Through grace we open our awareness to God whom we know by faith is within. Centering Prayer is a method designed to facilitate the development of contemplative prayer by preparing
our faculties to receive the gift. It presents ancient Christian wisdom teachings in an updated form. Centering prayer is not meant to replace other kinds of prayer; rather it casts a new light and depth of meaning on them. It is at the same time a relationship with God and a discipline to foster that relationship. This method of prayer is a movement beyond conversation with Christ to communion with Him.

Please contact Maureen for more information or if you plan to attend. You can text or call 01-925-1035 or email [email protected]
---
COFFEE HOUR – MAY 30 & JUNE 4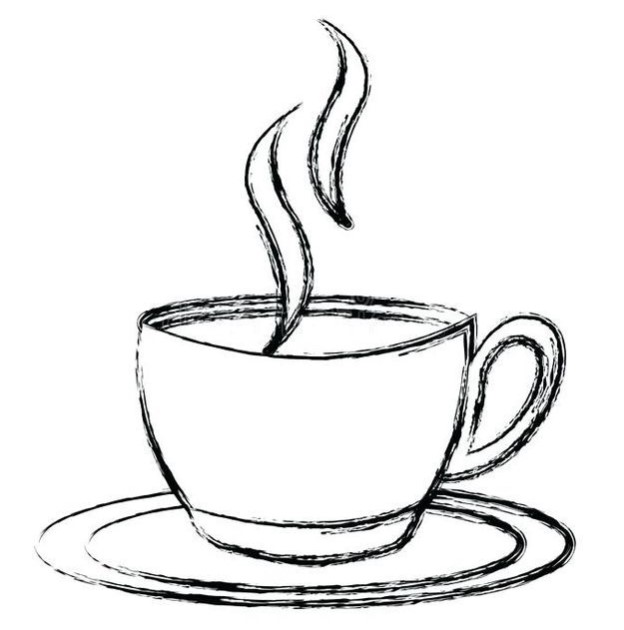 Come to COFFEE HOUR in the Parish Retreat House (between the church and upper school) on May 30 (Tues.) and June 4 (Sun). Also, if any ministry would like to host a Coffee Hour, please reach out to Teresa at [email protected].
---
RCIA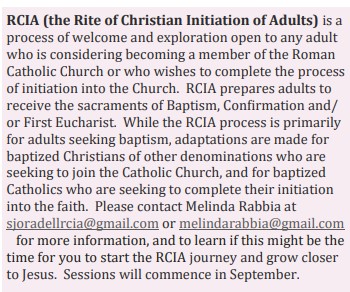 ---
YOUTH GROUP
Teen meetings (7:30pm -9pm): Tuesdays: 5/30, 6/6, 6/13
For more information, contact Ellen at [email protected].

Youth Ministry-led Family Mass
Sunday, June 4 at 4pm
All are welcome!
---
SJS REUNION – JUNE 10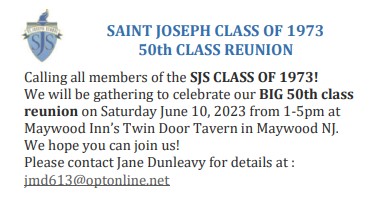 ---
VOLUNTEER– JUNE 13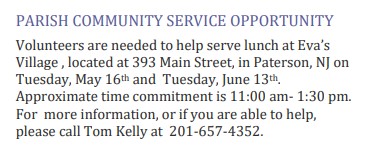 ---
ROSARY FOR LIFE – JUNE 24
Please join pro-life Catholics for a rosary rally for the unborn on the first anniversary of overturn of Roe v. Wade (Sat. 6/24)!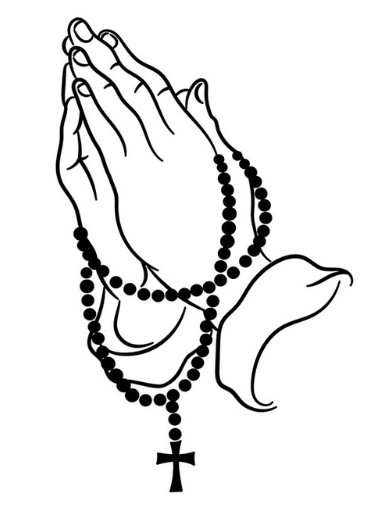 Time: 11am- 11:30am
Place: St. John the Evangelist Church
29 North Washington Avenue
Bergenfield, NJ
For more information, contact Ellen Kozlowsky at 201-906-5089.
---
ADORATION – JUNE 7 and JUNE 9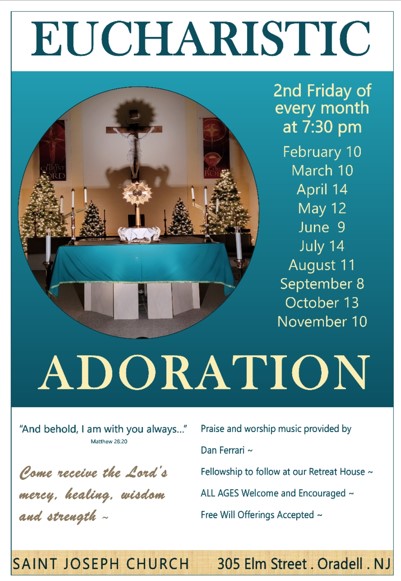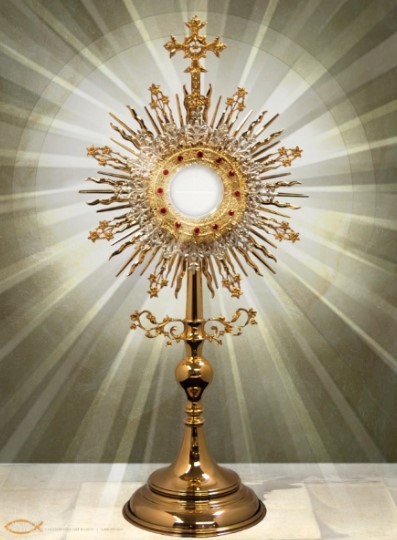 ---
M.O.M.s
To sign up for M.O.M. emails and receive information about upcoming events, share wonderful spiritual resources, service opportunities and more, email [email protected].
---
PRO-LIFE MASS – JUNE 15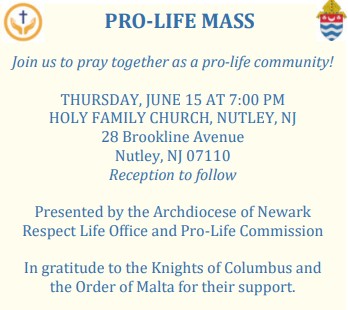 ---
YOUNG ADULTS – MAY 26 and JUNE 30
Are you a young adult between the ages of 21-35 and would like to join "FUEL"? Our monthly meetings are every last Friday of the month at 7:30pm. Email us at [email protected] if you would like to be added to our mailing list, and follow us on Facebook/Instagram @fuelyoungadultministry!
---
FAITH GROUP – MAY 30 and JUNE 6
Our Faith Sharing Group meets every Tuesday at 7pm in the Jackson Room (lower church). We pray the Breviary, read and discuss the formational materials, and share our faith. All are welcome to join us.
---
PRAYER SHAWL MINISTRY – JUNE 8
The Prayer Shawl Ministry will have our next meeting from 11am to 1 pm on Thursday, June 8, 2023, in the Parish Life Center on Grove Street. As always, we invite all crocheters and knitters to bring their work with them, and craft their garments with us. We present shawls and lap robes for those experiencing illness, confinement, or bereavement as well as happy celebrations. Please contact Gail for more information via the rectory.

---
RALLY FOR LIFE – JUNE 24
Date: Sat 6/24
Tim: 11am – 1pm
Place: State House annex, Trenton, NJ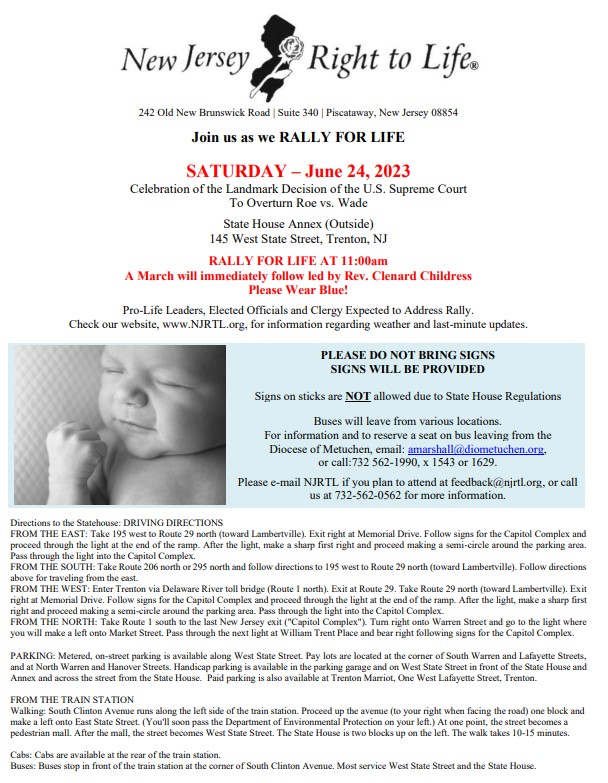 ---
SCHOLARSHIP APP – MAY 31
Knights of Columbus Council No. 3814 will award $1,000 Scholarships to 2 current 8th graders planning to attend a Catholic HS in the fall of 2023. Eligible scholarship applicants must be registered with St. Joseph parish or Ascension parish. Applications can be downloaded from our website at www.kofcstjoseph.org and must be postmarked by May 31. For additional information, contact Jeff Walters at 201-925-7174.
---
THEOLOGY CLASSES

Interested in learning more about your faith? New Summer and Fall courses from Immaculate Conception Seminary School of Theology are available!

Learn more about graduate theological courses offered this
Summer (including Parables of Jesus, Theology of
Work and Rest, Creation and Science), and our Fall
courses. For details, please email [email protected]
or call Elizabeth Vacchiano at (973) 761-9633.
---
MASS BOOK/ALTAR FLOWERS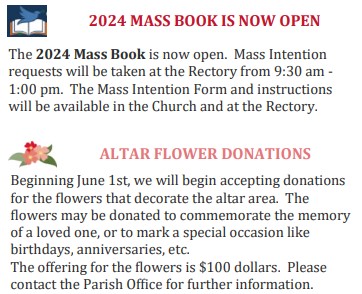 ---
BOOKS AT MASS FOR KIDS

---
POST-ABORTION HEALING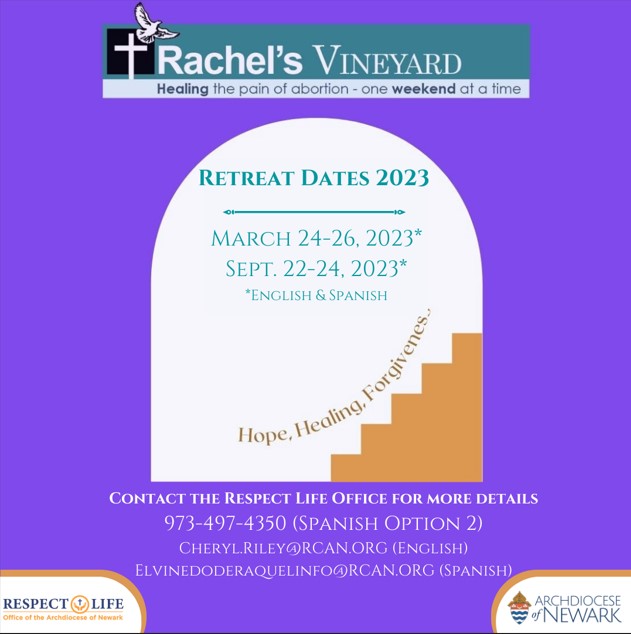 Rachel's Vineyard is a safe place to renew, rebuild and redeem hearts broken by abortion. Weekend retreats offer a supportive, confidential and non-judgmental environment where women and men can express, release and reconcile post-abortive emotions to begin the process of restoration, renewal and healing. Call 973-497-4350 or e-mail [email protected] for more information about retreats. There is a retreats in Newark Sept. 22-24, but there are retreats in other locations, as well. If you are you in need of healing for the pain from abortion but can't wait for a retreat, please know that you are not alone. God loves you, And we're here for you 24/7. Call 866-721-7881 or visit https://h3helpline.org/
---
PREGNANCY RESOURCES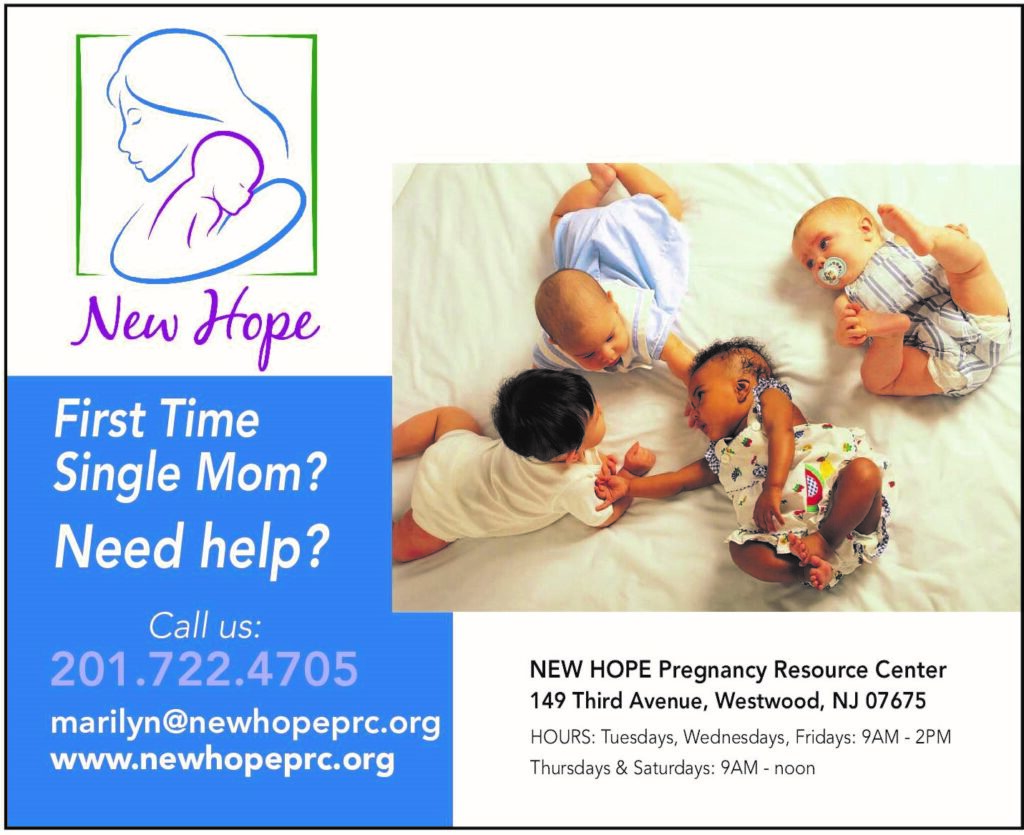 If someone you know is pregnant and needs assistance, there are many resources available. Confidential help is free and available to all. Please call 1-800-848-LOVE any time. Or contact New Hope Pregnancy Resource center in Westwood at 201-722-4705, or text 201-669-2796. New Hope staff and volunteers remain involved through every step of the journey through pregnancy, the toddler years, and beyond, providing food, diapers, clothing, mentoring, and assistance with schooling/employment for moms.
---
FREE CATHOLIC FILMS/BOOKS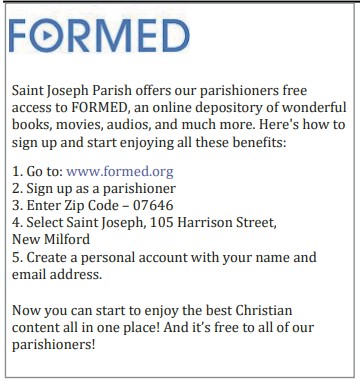 ---
COLLECTIONS
Please drop donations of non-perishable items in the bin marked "SJCC" on Grand St. at any time:

diapers & wipes/ laundry detergent/ paper supplies/ cleaning supplies/ toiletries

Contact Peg Kohli
([email protected]
or 201-391-0224)
for more information about
St. Joseph Care Corner (SJCC)
and the organizations we help.
---
BULLETIN SUBMISSION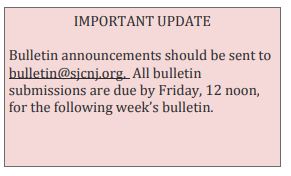 ---
K of C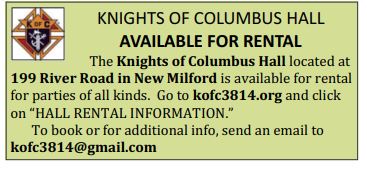 ---
BABY FEET MAGNETS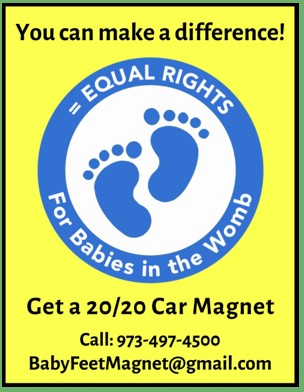 ---
BUSINESS AD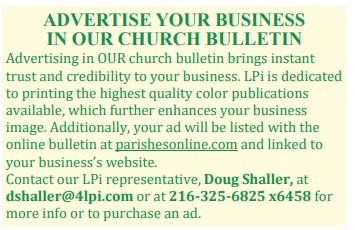 ---
NEW FLAG POLE DEDICATION
In loving memory of Sgt. David Solinas, Jr and Maj. Marie Rossi who unselfishly gave their lives in service to this country and were beloved members of our parish, St. Joseph Church will be purchasing and dedicating a new flag pole (to replace the old one), commemorative plaques and garden that will be placed in front of the Curry House. The day/time for the dedication prayer service and reception to follow TBD.
---
---
To submit an event, please contact Melinda at [email protected]. All entries must be approved by Fr. Christian.