WED. DAYTIME ADORATION – DEC. 6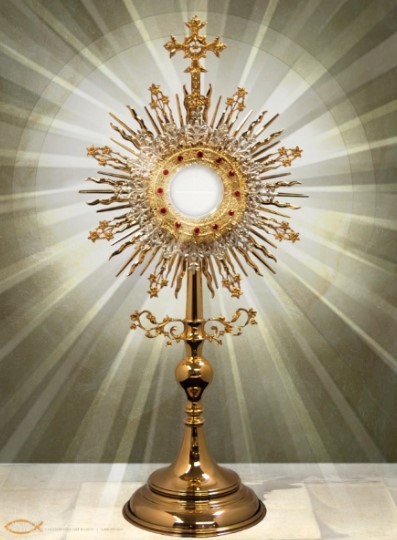 ---
ADVENT RECONCILIATION – MONDAYS
Monday, December 4th at 7:00 pm
Church of the Ascension
256 Azalea Drive, New Milford
Monday, December 11th at 7:00 pm
Annunciation Church
50 West Midland Avenue, Paramus
Monday, December 18th at 7:00 pm
St. Therese of Lisieux
120 Monroe Avenue, Cresskill
---
ADVENT GIVING TREE – BY 12/10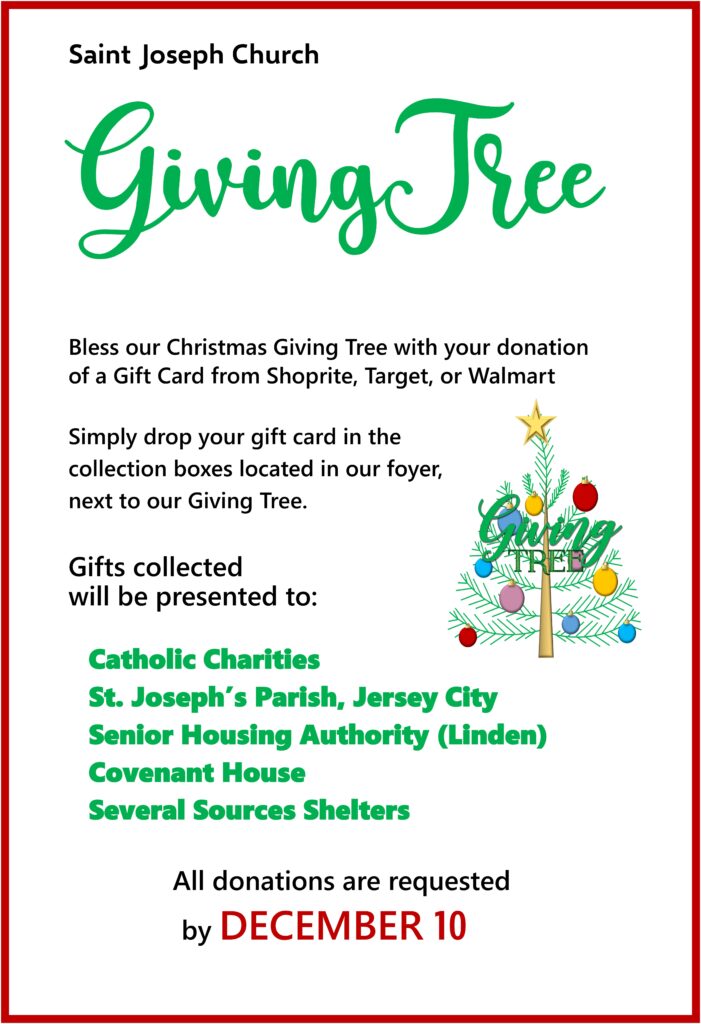 Please email Melinda or Christine at [email protected] with any questions.
---
VOLUNTEERS NEEDED – DEC. 8

We are looking for volunteers to offer 2 hours of time to assist with crowd control and/or selling merchandise offered as part of hosting the Relic of the Arm of St Jude on Friday, December 8th.

Please consider helping us with this special event! Email Phil at [email protected] by December 1st with the role (Usher and / or Sales) and the time slot for which you can assist.  We'll fill in spots on a first come, first serve basis.  We'll send out a final schedule to confirm your spot.
---
CONCERT – DEC. 11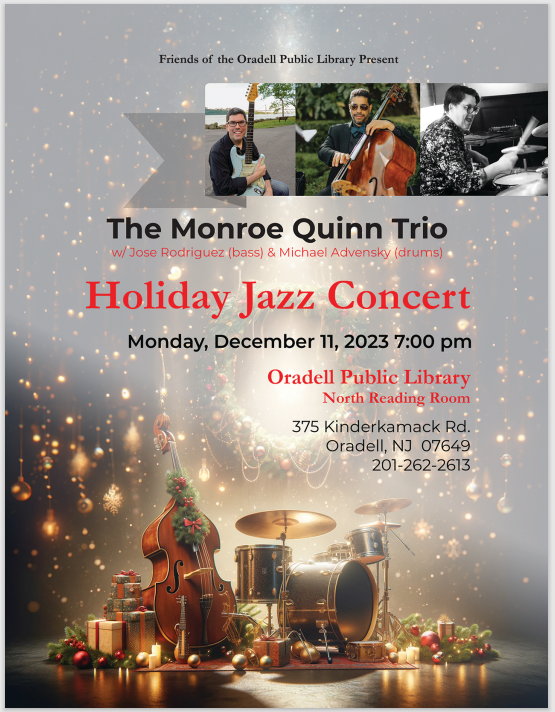 ---
CHURCH DECORATING – DEC. 17
Join us on Sunday, December 17 at 1pm to help decorate Saint Joseph Church for Christmas! If you are interested, please email Tom at [email protected]. All are welcome!!
---
LECTOR BOOKS – by DEC. 3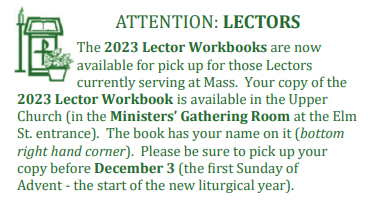 ---
YOUTH

Teen meetings on Tuesdays (7:30pm -9pm). For more information, contact Ellen at [email protected].
---
VOLUNTEER OPPORTUNITY– DEC. 19

Volunteers are needed to help serve lunch at Eva's Village, located at 393 Main Street, in Paterson, NJ on Tuesday, December 19. Approximate time commitment is 11am- 1:30pm. For more information, or if you are able to help, please call Tom Kelly at 201-657-4352.
---
K of C PARTY – DEC. 23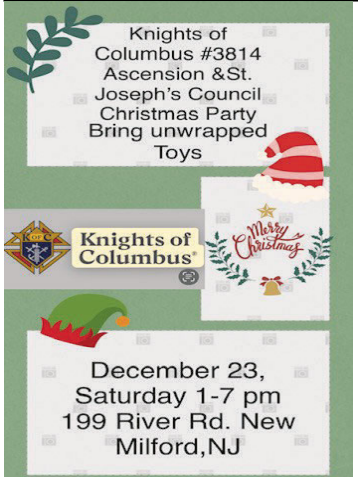 ---
FOOD DRIVE – DEC. 9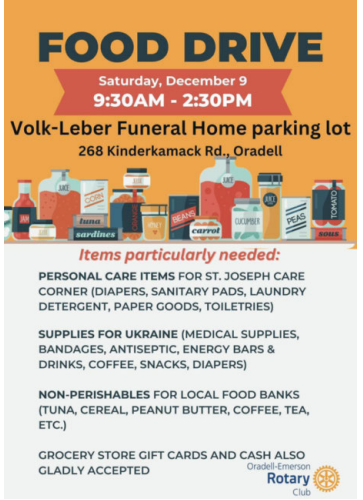 ---
RELIC TO VISIT ST. JOSEPH – DEC. 8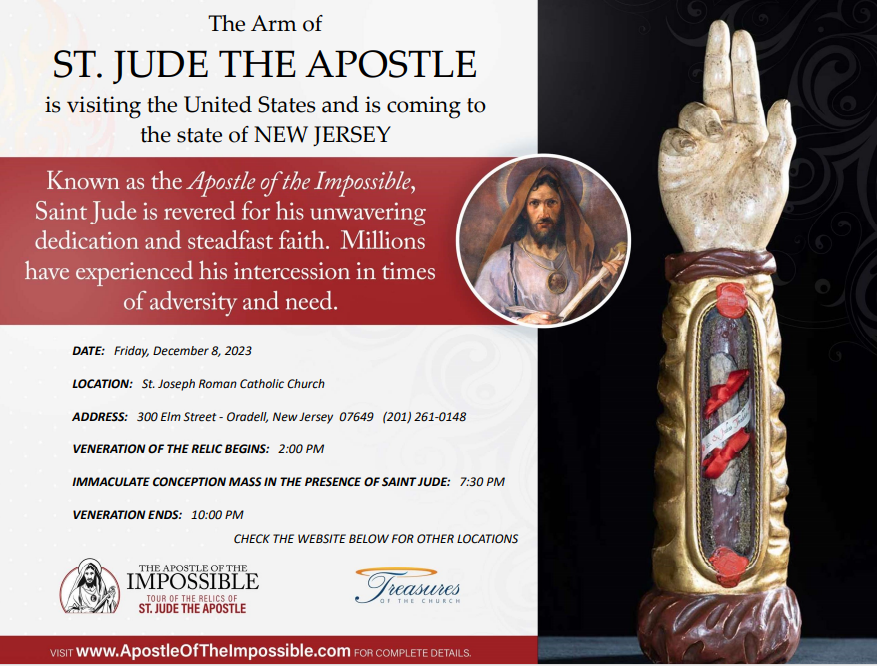 The Arm of St. Jude The Apostle is visiting the United States….
and is coming to St. Joseph Parish on Dec. 8 (Friday)!

Veneration of the Relic begins at 2pm
Immaculate Conception Mass in the presence of St. Jude at 7:30 pm
Veneration ends at 10pm
---
MOMS GROUP– NOV. 29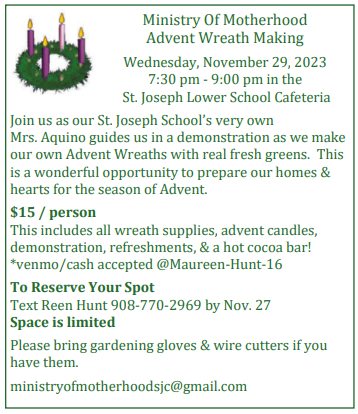 ---
DECEMBER RETREATS
Benedictine Sisters are offering both in-person and virtual Retreats this December:

Advent Reflections Virtual Retreat with Sr. Philomena Fleck, OSB
Wednesday afternoons, 2pm- 3pm, Dec. 6-20, 2023; Zoom link & reading materials provided with registration; freewill offering accepted
Email Sr. Philomena at [email protected] to register

"Jesus, Our Bread of Life" In-Person Retreat at St. Walburga Monastery on Saturday, 12/9, 9:30 am – 3:30 pm. In Advent, as we await the coming of Christ, let us renew our devotion to Christ as he comes to us in the Eucharist. How can we experience this gift as Jesus intended? Presented by Sister Marita Funke, OSB. Register at: https://bensisnj.org/retreat-calendar-1
Cost is $60. ($75 Extended Day includes Vespers, dinner and Compline)
---
SJ FAITH GROUP – TUESDAYS
Our Faith Sharing Group meets every Tuesday at 7pm in the Jackson Room (lower church). We pray the Breviary, read and discuss the formational materials, and share our faith. All are welcome to join us. If you want to grow in your faith and improve your prayer life, please join our faith sharing group which meets every Tuesday from 7:00 PM until 8:30 PM, led by our own Father John. We are currently watching season 2 of "the Chosen".
---
FRI. EVENING ADORATION – DATE TBD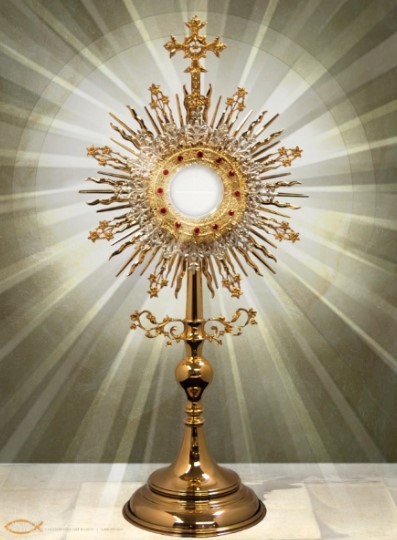 ---
CHRISTMAS CONCERT – JAN. 7

SAVE THE DATE! Our annual parish Christmas concert, An Afternoon of Christmas Joy will take place on SUNDAY, January 7 at 3:00 PM in the Upper Church. This very popular concert will feature our spectacular Adult and Children's Choirs, Cantors, and instrumentalists in a beautiful concert of Religious, Holiday and Popular music. Please be sure to mark your calendars and spread the word. An Afternoon of Christmas Joy is a beautiful way to close out the Christmas Season.
---
SJ SHAWL MINISTRY – DEC. 13
The Shawl Ministry will meet from 11am to 1pm in the Parish Life Center on Grove St. We welcome new members who can crochet and knit to our meetings. Just bring your current project with you, and enjoy our prayerful and happy group. We present shawls to those who are experiencing celebrations as well as challenging occasions.
---
COFFEE HOUR – DEC. 3 & JAN. 7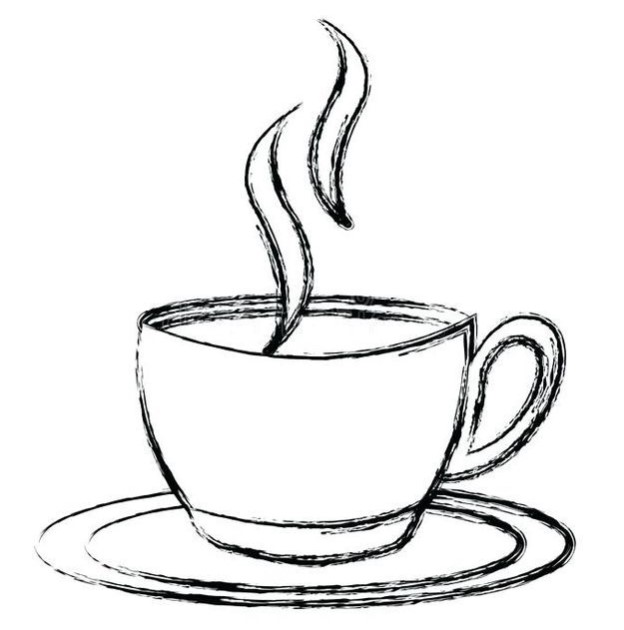 Join us after Mass for SUNDAY COFFEE HOUR on 12/3 and 1/7 in the Parish Retreat House (between the church and upper school).

Note: TUESDAY COFFEE HOUR will take place after the 8:30am Mass on 11/28.

If any ministry would like to host a Sunday Coffee Hour, please reach out to Teresa at [email protected].
---
ST. JOSEPH SCHOOL FUNDRAISERS

Please consider supporting the students at St. Joseph School by participating in one of the upcoming fundraisers: 8th Grade Carousel Cakes and/or the 3rd Annual Christmas Sale. Please visit www.sjsusa.org/upcoming-events to get more
information and place your order.

---
ADVENT MUSICAL – DEC. 10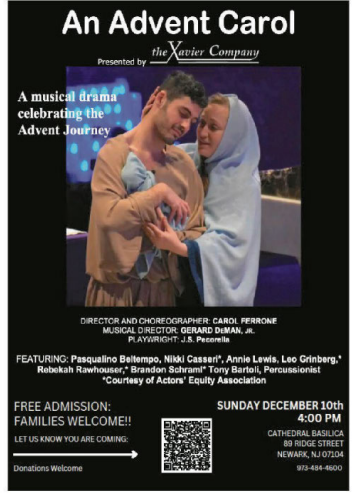 ---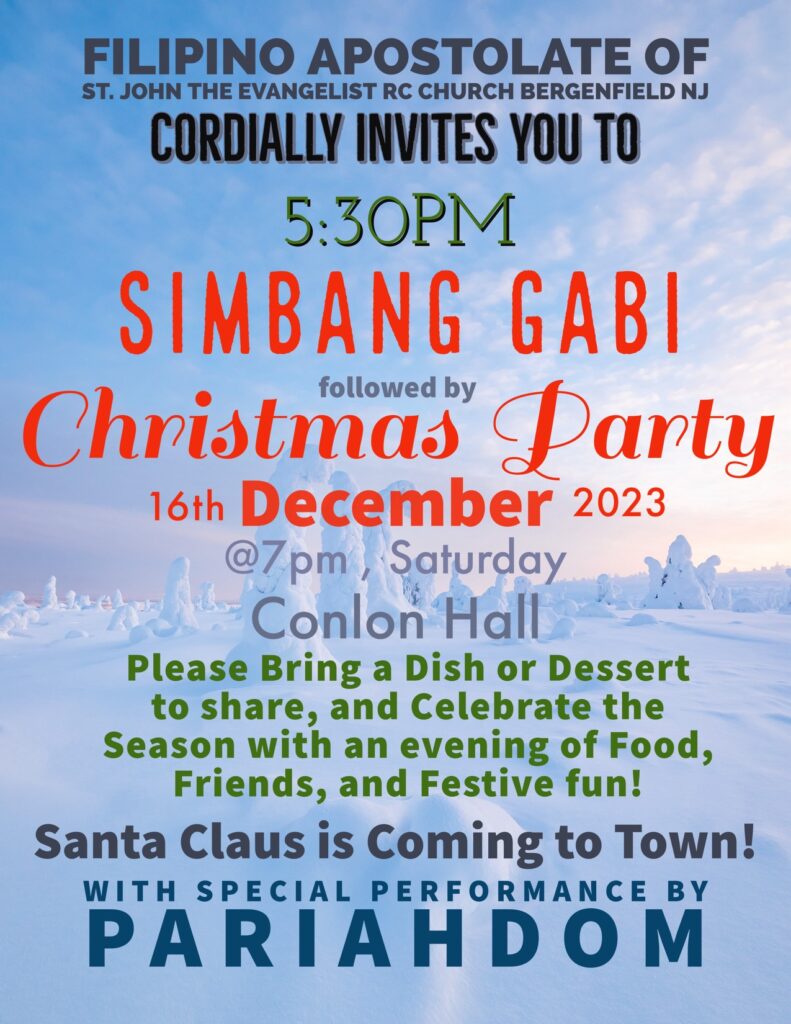 ---
CANDLELIGHT CAROL SING – DEC. 13 & 14

The 52nd annual Candlelight Carol Sing will be held at the Cathedral Basilica on
Wednesday, December 13th and Thursday, December 14th at 8pm (two performances). Doors open at 7pm both nights. Christmas music in several languages will be sung by the Cathedral Choir with the assembly and will be accompanied by the great Cathedral organs and brass ensemble. Free-will donation.
For more info call 973-484-2400, or visit www.cathedralbasilica.org
---
YOUNG SINGERS – CHRISTMAS CONCERT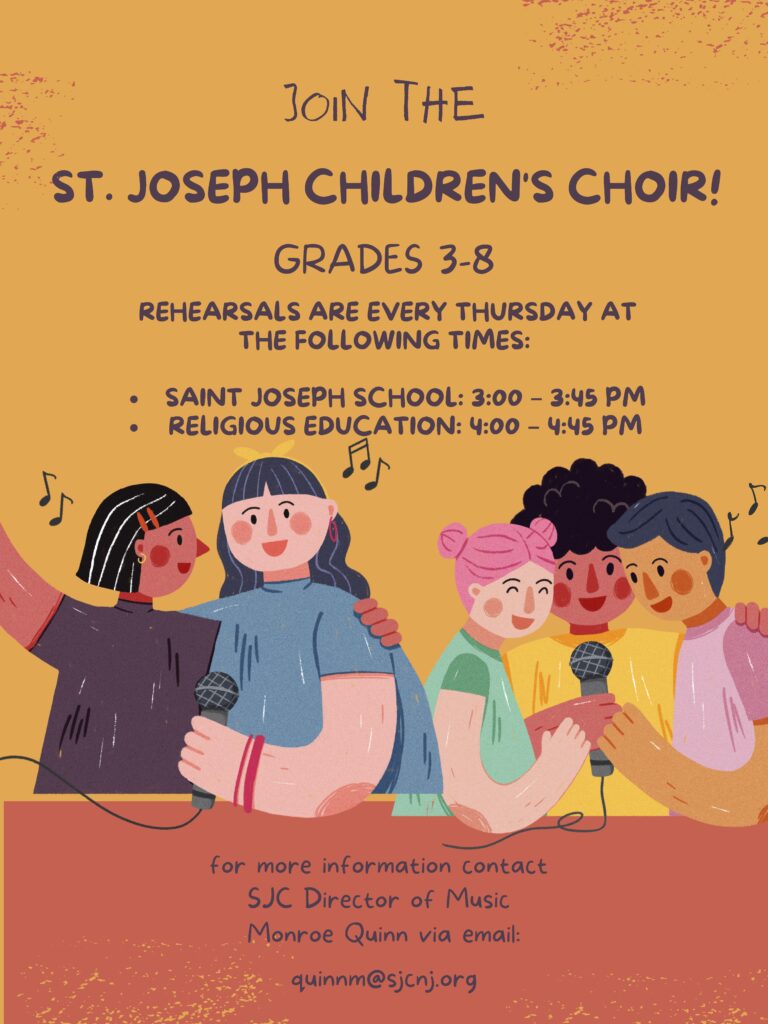 If your child in grades 3-8 wishes to join the children's choir, now is a great time! The children's choir will shortly begin practicing for our parish Christmas Concert, being held on Sunday, January 7 at 3pm. Please contact Director of Music, Monroe Quinn at [email protected].
---
PREGNANCY RESOURCES
If someone you know is pregnant and needs assistance, there are many resources available. Confidential help is free and available to all. Please call 1-800-848-LOVE any time. Or contact New Hope Pregnancy Resource Center in Westwood at 201-722-4705, or text 201-669-2796. New Hope staff and volunteers remain involved through every step of the journey through pregnancy, the toddler years, and beyond, providing food, diapers, clothing, mentoring, and assistance with schooling/ employment for moms.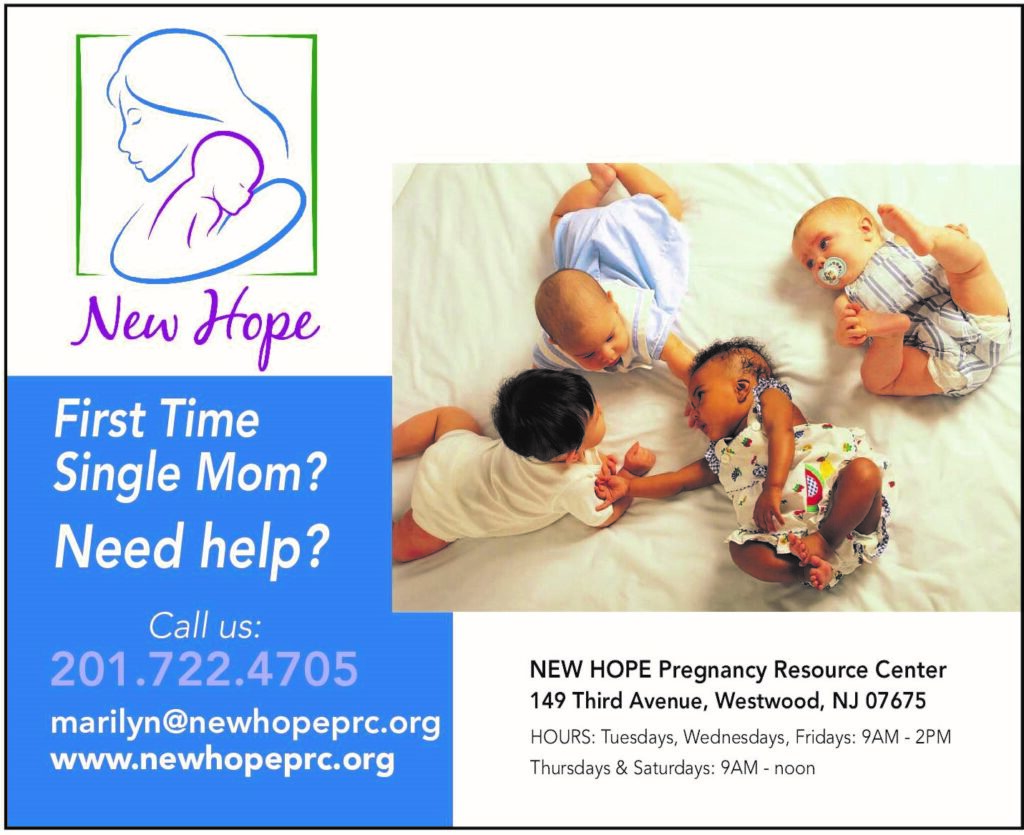 Another option is to call Several Sources in Ramsey. Through God's grace, Several Sources saves babies' lives and shelters young mothers, while providing education and ongoing compassionate support services, including their Pregnancy Sonogram Center. They further educate young people to make healthy life choices, and they support inner city Special Families with care packages for Easter, Back-to-School, Thanksgiving and Christmas. Visit www.severalsources.org or
call (201) 818-9033 for more information.
---
POST-ABORTION HEALING
Rachel's Vineyard is a safe place to renew, rebuild and redeem hearts broken by abortion. Weekend retreats can help begin the process of restoration, renewal and healing for men and women. Call 973-497-4350 or e-mail [email protected] for more information. There are retreats in various locations. If you are you in need of healing for the pain from abortion but can't wait for a retreat, please know that you are not alone. God loves you, And we're here for you 24/7. Call 866-721-7881 or visit https://h3helpline.org/
BABY FEET MAGNETS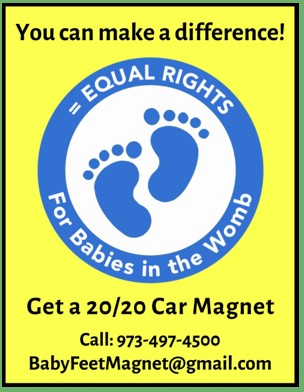 ---
RESPECT LIFE
The SJ Respect Life group is seeking new members. Contact Melinda at [email protected].
For legislation information and to oppose the NJ abortion expansion bill (A4350/ S2918), click HERE and scroll down to "Respect Life."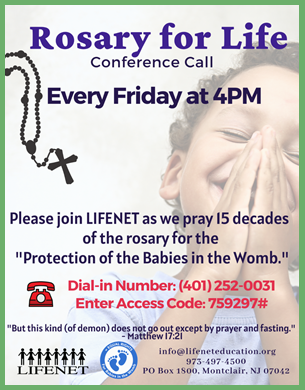 ---
JOIN THE CHOIR!

If anyone is interested in joining the adult choir (especially altos) please speak with Director of Music, Monroe Quinn after Mass or email him at [email protected]. The choir practices on Thursday evenings, and enriches the 10:30am Mass on Sunday mornings.
---
SJ LEGION OF MARY
The Legion of Mary would like to invite you to pray the Rosary with us. Bring your special prayer request! We can teach you how to pray this beautiful prayer; no experience necessary, just a desire to go to Jesus through Mary. We meet once a week on Mondays immediately following the 8:30 a.m. Mass. Each meeting is begun with prayer and recitation of the Rosary. You are welcome to remain after the Rosary for the meeting. Perhaps you will prayerfully consider joining the Legion of Mary! For more information, please contact [email protected].
---
FREE CATHOLIC FILMS/BOOKS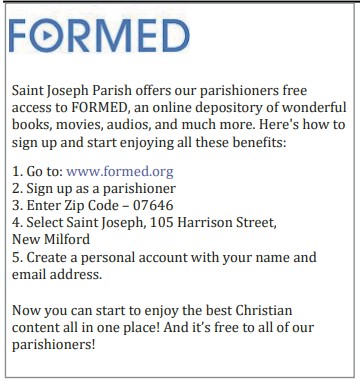 ---
COLLECTIONS
Please drop donations of non-perishable items in the bin marked "SJCC" on Grand St. at any time:

diapers & wipes/ laundry detergent/ paper supplies/ cleaning supplies/ toiletries

Contact Peg Kohli
([email protected]
or 201-391-0224)
for more information about
St. Joseph Care Corner (SJCC)
and the organizations we help.
---
K of C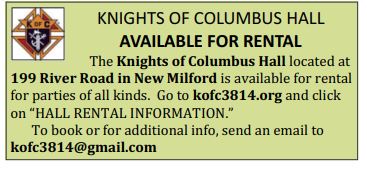 ---
SJS Pre-K for age 2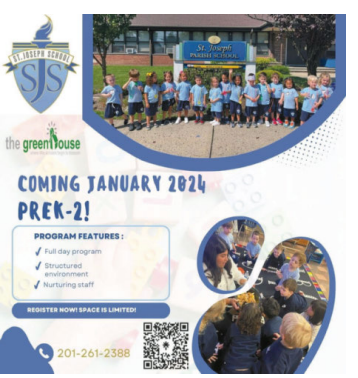 ---
---
---
To submit an event, please contact Melinda at [email protected]. All entries must be approved by Fr. Christian.